To be on the safe side we prepared a manual for you. As we got used to chats, but not always sure, how to communicate with a chatbot, because it is a rather new creature. Almost all the steps are intuitively understandable. But there are some tips we want to share! Please, read the manual and start your journey!
1.Just open your Telegram Messenger.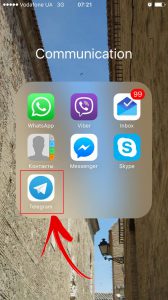 2. Choose "Write a new message"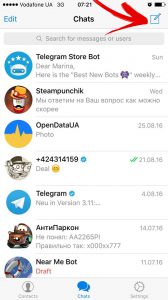 3. Find our bot — @unexploredcity_bot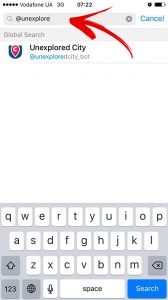 4. Press "Start"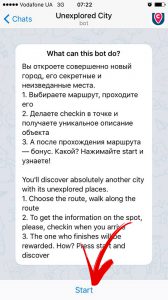 5. Change the language if you need.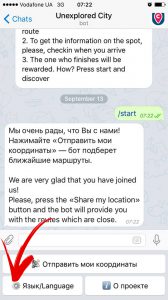 6. The bot will ask you to share your location, please, share and press "Ok".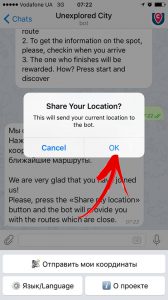 7. Choose the route you are interested in.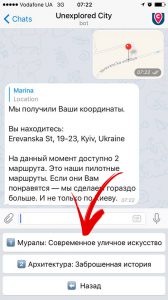 8. "Get started"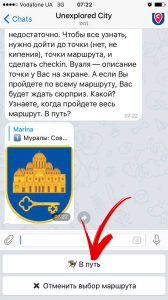 9. Read our tip, how to get there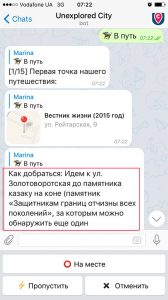 or
Create your route with the help of Google.Maps or Yandex.Maps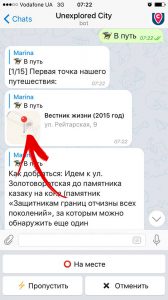 Here you are.
Then press this "Go to my Maps" button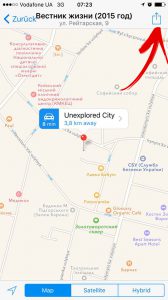 Choose the one you prefer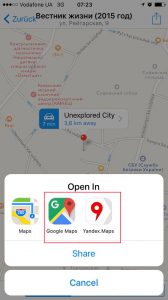 Follow instructions.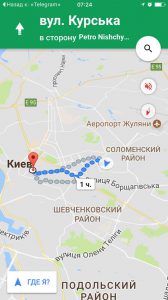 Getting to the object press "Back to Telegram"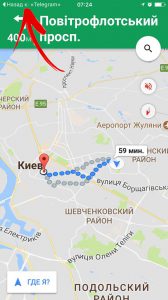 10. When you are back and do not see the buttons, please, press the button.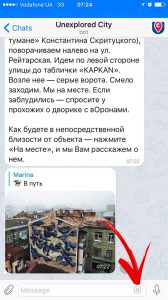 11. When you get to the object, press "I'm here"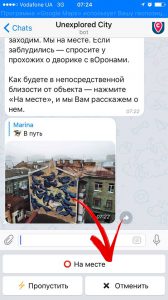 12. Enjoy and continue your journey! Don't forget only those, who didn't skip the objects and get to the finish, will get a present…
________________________________________________________________________________________________________________________________
Before starting your journey, please, be aware that you have
your smartphone at hand,
the Telegram Messenger installed,
internet connection (3g is quite enough)
*We need the internet connection only on the early stages while preparing mobile apps. Then the routes can be downloaded  and used offline. Please, be patient. We are working on it.